I know many people who would like to help in the mission field and travel to another country or to another part of the United States as part of a mission group, but because of financial or time constraints it is not possible. Three years ago, a person at my church had the idea of helping people locally as an outreach to the community. It became known as the Mission Trip to Findlay and we helped local people clean up their yards, do small home repairs and other things that the homeowner was not able to do. Yesterday was the third event and it was bigger than ever. Working through the Findlay Ministerial Association, we invited churches from around the city to join us. The goal was 100 projects with 1000 volunteers. We exceeded the goal in every way.
I volunteered to help map out the projects as they were added to the database. The Fusion Table map below is the final version. I have taken all the names and addresses off the markers, but if you click on a marker you can see all the data included for each property. The markers are color coded based on the project manager. These people passed information about the property to project leaders. A single property could have as many as five projects. The final database has 139 properties and there were many with multiple projects. To get the work done, there were 27 different churches who together sent more than 1100 volunteers.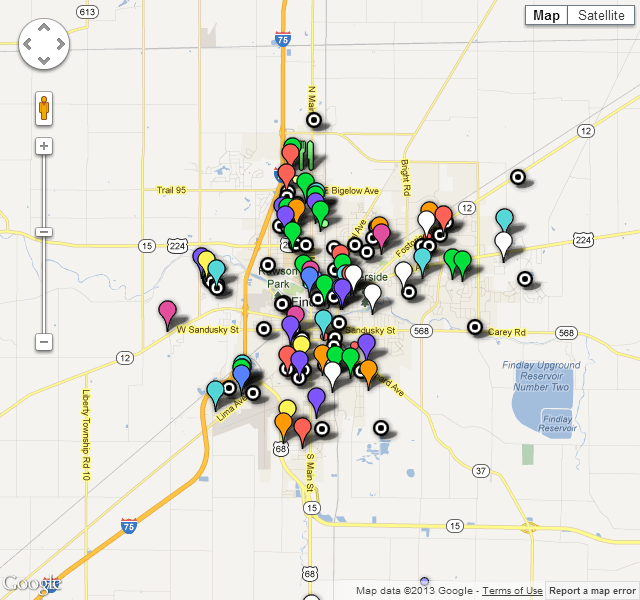 Update: I have removed the interactive map from this post. An article in the The Courier this morning indicated that someone is trying to scam the good people in need in Findlay. I see no reason to give a scammer an interactive map showing all the locations in the Backyard Mission Trip. If you would like access to the map, contact me directly.
The Courier had this story about the first Backyard Mission Trip 2013.